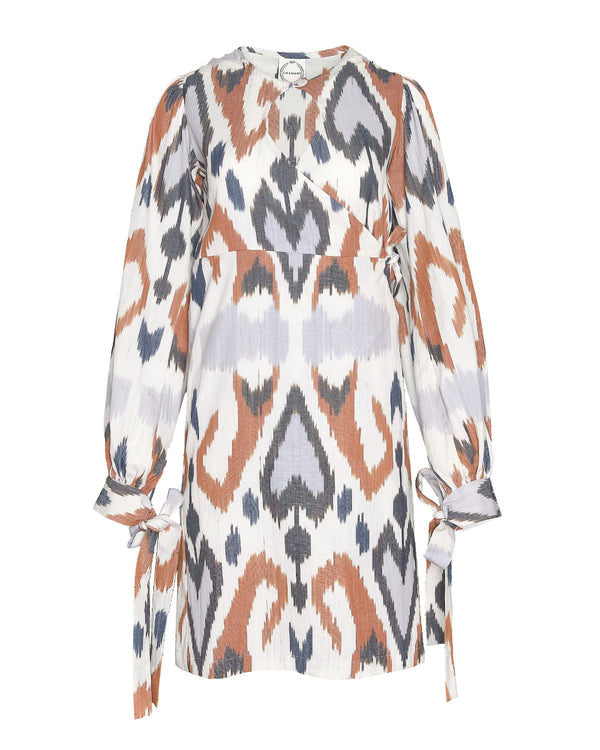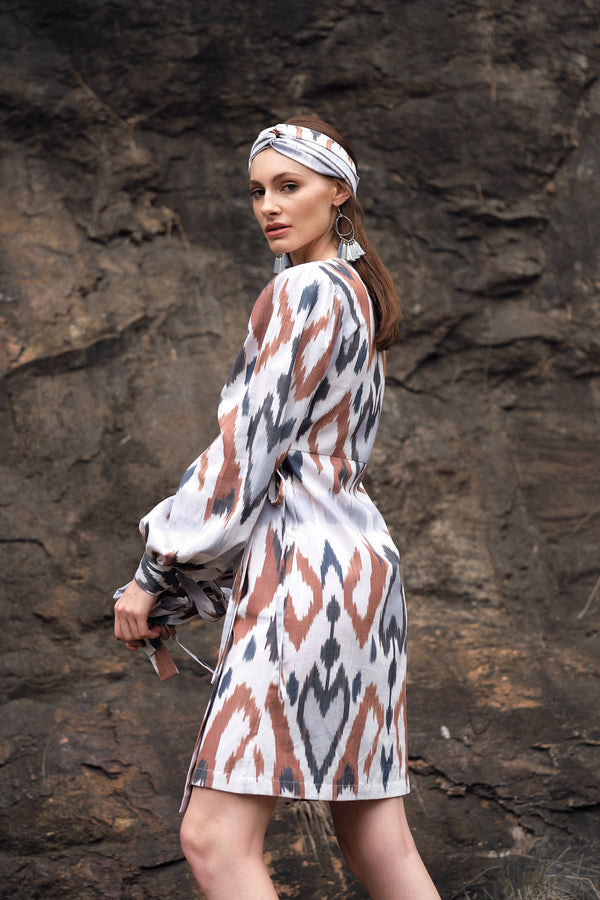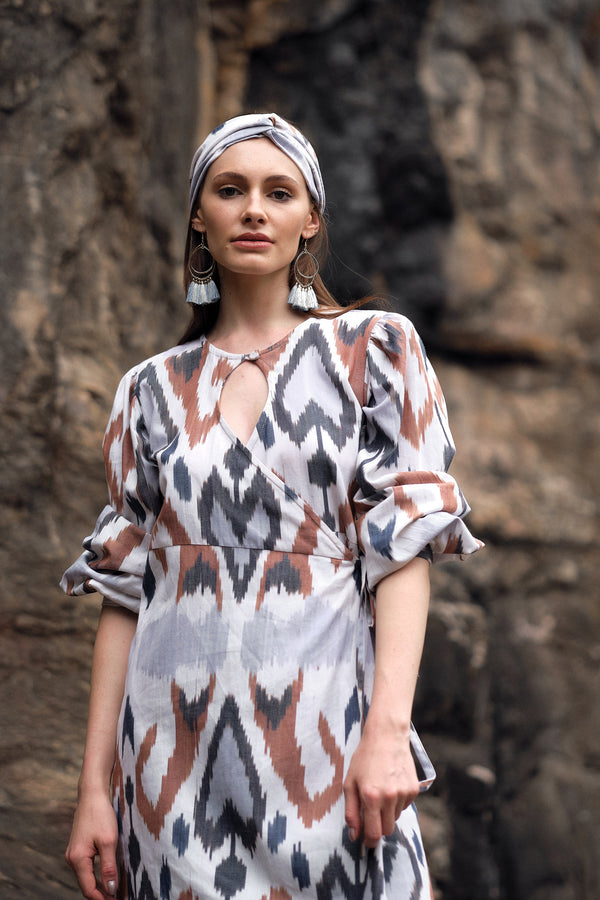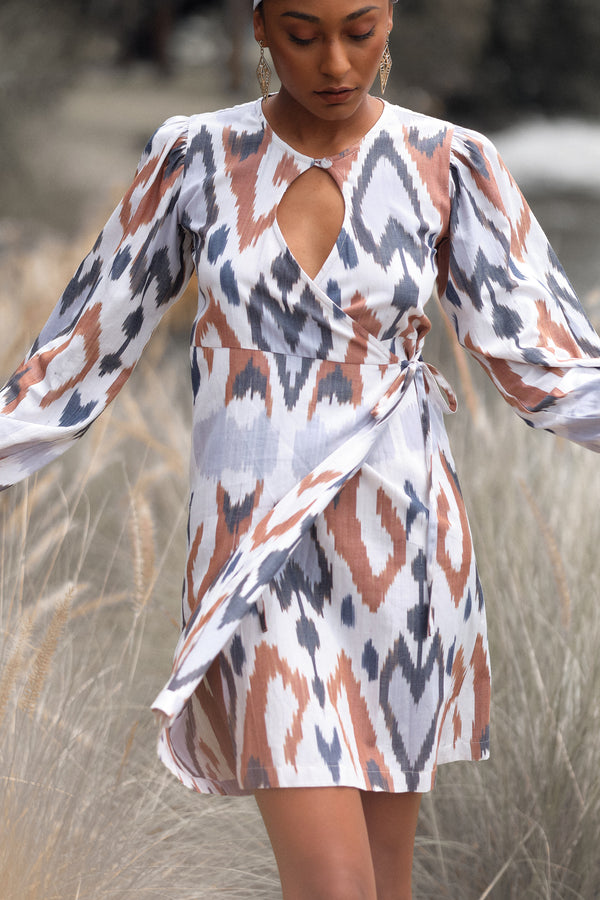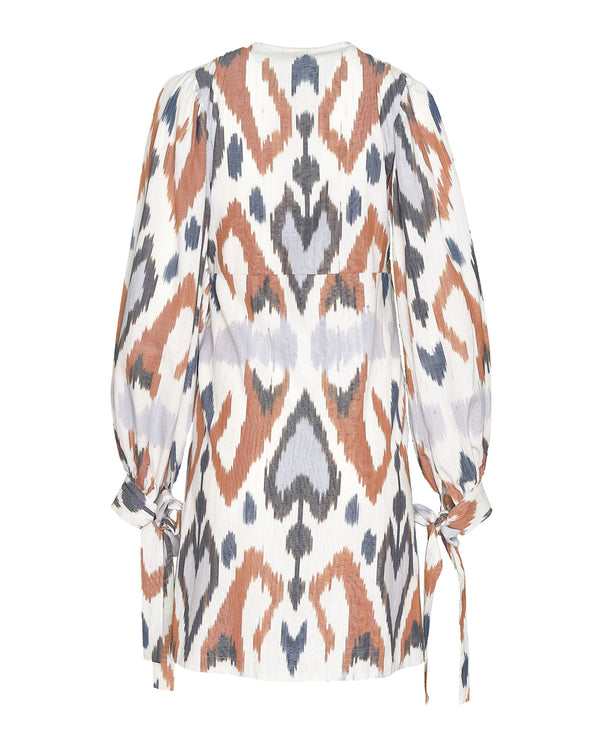 Garment Details:
Our KAVI dress is an angelic mid-length wrap dress.
It features ties on each arm that can either be tied above the elbow to create a statement puff sleeve or at the wrists to show off the gorgeous balloon sleeve.
It has a covered wooden button at the top and two sets of adjustable ties (one hidden on the inside and one on the outside) to secure and tie the dress to your liking.
With elegance along with practicality in mind,  this dress has a hidden pocket feature also.
MADE IN AUSTRALIA & PROUDLY ETHICAL CLOTHING AUSTRALIA ACCREDITED
The Story Behind the Dress:
Our Kavi dress is named after Kavita, an inspirational lady from our partner charity, Sambhali Trust in India and the patterned print is named after Thi, one of our wonderful machinists who lovingly makes our garments at our non-profit production partner, The Social Studio in Melbourne, Australia.
Click HERE to learn more about these incredible ladies.
FABRICATION
Fabric

Our custom fabrics are hand-woven and hand-dyed by our artisan partners in India
100% GOTS Certified Organic Cotton Yarn.
Dyed with GOTS Certified Dyes
See our Transparency Passport below for more details
SIZE CHART
SPECIFIC INFORMATION ABOUT THIS PIECE: 
As the dress is wrap style, it can be adjusted to fit different body shapes/sizes that's why on our size chart we provide you with a range of measurements. The bust size in this garment is the most crucial.
If you are between sizes, you may prefer to get the next size up to ensure you will have the coverage you want around the bust. If you are unsure of which size to get, please contact us via email or Insta DM and we can help you work out which size will be best.
Dress Length: 90cm (From the shoulder down to the dress hem)
Sleeve Length ~ 65cm ( From shoulder seam to the end of the cuff on the sleeve) 
SIZE CHART: 
CENTIMETRES

Size XS-S

(AU 6-8)

Size S-M

(AU 10-12)

Size M-L

(AU 14-16)

L/XL

(AU 17-18)

Bust
81-86
91-96
101-106
110-116
Waist
63-68
73-78
83-88
93-98
Hips
88-93
98-103
108-113
118-123
INCHES

Size XS-S

(AU 6-8)

Size S-M

(AU 10-12)

Size M-L

(AU 14-16)

L/XL

(AU 17-18)

Bust
31.9-33.9
35.8-37.8
39.8-41.7
43.3-45.7
Waist
24.8-26.8
28.7-30.7
32.7-34.6
36.6-38.6
Hips
34.6-36.6
38.6-40.6
42.5-44.5
46.5-48.4
MODEL DETAILS
Our models are wearing the XS/S size
Nanayaa 
Height: 

180cm / 5' 11in

Bust: 

84cm / 33in

Cup Size: 

B/C

Waist: 

69cm / 27in

Hips: 

98cm / 38½in

Dress

: XS/S (Size 8-10)
Jenna
Height: 

175cm / 5' 9in

Bust: 

84cm / 33in

Cup Size: 

B

Waist: 

64cm / 25in

Hips:

91cm / 36in

Dress: 

XS/S / Size 8 
SHIPPING & RETURNS + MADE TO ORDER FAQ
MADE TO ORDER
During product launches and busy periods (eg. Xmas) we ask that you allow 7-10 business days for your order to be made and to factor in the shipping timeafter. Normally however your piece will be made within 2-7 days and then shipped to you.  If you will be needing your piece urgently - please write this in the comments at checkout or emails us with the date you require it by and we will do our best to accommodate this. Please allow approximately 2-4 weeks for your order to be fulfilled and delivered (depending on location) once you have placed your order. For detailed information on Made To Order orders please click here. SHIPPING POLICY
For domestic orders over $250 – Free standard shipping
For International orders over $500 - Free Standard Shipping
Express Shipping for all domestic orders will be $15
Click here for more information on Shipping and details on International shipping 
RETURNS POLICY
Returns must be submitted in writing via email to hello@chamani.com.au as soon as possible. The items must be shipped back to us within 7 days of delivery and received at our warehouse within 14 days of delivery.
For more detailed information of our returns process, click here.  
TRANSPARENCY PASSPORT
Price Transparency
Without understanding the story behind our products or the work, time and love that goes into it, the price of our products might seem quite high to some (to others we are not charging enough!). This is why we are being fully transparent to show you how our prices are calculated.


Our markup helps us to create a sustainable business where our working costs are covered. There are many ongoing costs of a business that aren't shown here, as this diagram only shows the direct costs of the garment itself. As we do not have any employees or stores, our markup is much lower than most brands. It also goes against everything we believe in to have exorbitant markups that is evident in the industry today.
Please note that this markup and our prices will likely increase in the future as we expand and have more overheads, employees and expenses but we will always be transparent with you about this. We not only want you to understand how you are voting with you dollar when you purchase with us, but we also want you to feel that your purchase and investment in our forever pieces is worthwhile.
Perhaps to help you put it into perspective, look around at what other brands in our price range are doing. Where are they made? Australia or off-shore? Are they ethically made? Are they doing everything they can to be sustainable? Are they honest and transparent about their prices? If you don't know or can't find this information, question it. Ask these questions, as they are important and you have the right to make an informed decision about your purchase and to be 100% sure you are not unknowingly supporting unethical or unsustainable practices.
If you have any specific questions about our pricing please email us and we will be happy to discuss. 
PRODUCT TRACEABILITY
GARMENT PRODUCTION:

The Social Studio
Team: Thi, Amy & Tara
Location: Collingwood, VIC, Australia
Kavi Dress, Parvi Skirt, Mumtaj Pants, Rekha Top
MADE TO ORDER:
MCC Manufacturing
Devi Skirt, Naida Top, Saroj Shorts, Shenaz Kaftan, Zero-Waste Accessories (except hair-bandeaus and tote bags - see below)
Location: Brisbane, Queensland, Australia
HAIR BANDEAUS:
Sambhali Trust Sewing Studio
Content: Our Sample Artisan-Made Handloom Fabric (see below)
Location: Jodhpur, India
TOTE BAG 
Sambhali Trust Sewing Studio
Content: Upcycled, Embroidered  Vintage Silk Sarees
Location: Jodhpur, India
FABRIC
Handloom Fabrics
Hand-woven & Hand-dyed
Artisans: G.M Kumar + Kumar Family
Location: Telangana, India
COTTON YARN:
GOTS Certified Organic Cotton Yarn
Certification: 161108/932020/9651
Origin Mill: Tamil Nadu, India
HEMP YARN:
OEKO TEX Certified Hemp Yarn
Certification: SH005 143137
Origin Mill: Heilongjiang, China
Dyes:
GOTS Certified
Certification: C809269-02-2020
Origin: Indokem LTD, Mumbai, India
THREAD
Supplier: MRECHT
Content: 100% Polyester
Location: Collingwood, VIC, Australia
FUSING
Supplier: S&T Maltease
Brand: Hansel
Content: Synthetic/Poly non-woven
Location: Melbourne, VIC, Australia
 CARE LABELS
Supplier: Gang Apparel
Content: 100% Cotton Printed
Location: Roseville, NSW
GARMENT LABELS
Supplier: Gang Apparel
Content: Damask Woven
Location: Roseville, NSW
BUTTONS
Sambhali Trust Sewing Studio
Content: Recycled/Salvaged Wooden Buttons
Location: Jodhpur, India
SWING TAGS (Attached with Hemp Twine)
Supplier: Gang Apparel
Content: Recycled Cardboard
Location: Roseville, NSW
TISSUE PAPER + STICKERS:
Supplier: No Issue Co.
Content: Acid Free Paper, Soy Based Inks
Location: Sydney, NSW
MAILERS
Suppliers: Hero Packaging
Content: 100% home-compostable shipping mailer
Location: Sydney, Australia
GARMENT CARE
COLD HAND OR GENTLE MACHINE WASH.
WASH SEPARATELY.
USE MILD DETERGENT.
DO NOT SOAK OR BLEACH.
DO NOT WRING, TWIST OR TUMBLE DRY.
DRIP DRY AWAY FROM DIRECT SUNLIGHT.
WARM IRON ON REVERSE SIDE TO BRING BACK TO SHAPE.
HANDLE WITH LOTS OF LOVE & CARE.
TREASURE ME FOR A LIFETIME 
♥